Magic the Gathering Conspiracy Spoiler: Magister of Worth
Nicht ganz topaktuell weil eigentlich nicht sooo superspannend: Als kleiner Spoiler oder fast schon Teaser wurde in einem Born of the Gods PreRelease Pack diese Karte gefunden:
Magister of Worth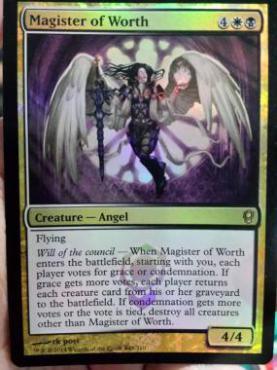 Quelle:
mtgsalvation.com
, von mir zuerst gesehen auf
goyf.de
Über eine verschlüsselte Telefonnummer konnte der Text einer weiteren Karte erfahren werden:
Cogwork Librarian (4)
Artifact Creature – Construct
Draft Cogwork Librarian face up. As you draft a card you may draft an additional card from that booster pack. If you do, put Cogwork Librarian into that booster pack.
3/3
Conspiracy
Was hältst Du davon, dass auf eine Karte Einfluss auf den Booster Draft nimmt?
 Das könnte Dich auch interessieren:
>>
FNM Promo Foils 2014
>>
Spoiler
>> Deal-Radar in den
Red-Zone-Deals
oder selbst stöbern über die
Shoplinks
1 Kommentar