From the Vault: Annihilation angekündigt
Auch dieses Jahr wird es im Sommer ein FtV Set geben: From the Vault: Annihilation. Der Teaser-Text in der heutigen Ankündigung lautet:
Harness the savage power of fifteen of the most brutal Magic cards ever unleashed. These limited-edition, black-bordered superweapons are legal in many tournament formats. Sweep the battlefield clean with this powerful arsenal and blast the opposition into oblivion.
Das klingt in erster Linie nach Boardsweepern wie Wrath of God, Obliterate, Pernicious Deed und dergleichen, wobei "blast the opposition" dann doch wieder etwas mehr Interpretationsspielraum zulässt. Wir können auf die Spoiler gespannt sein – ob wieder ein Kaliber wie Jace, the Mind Sculptor in From the Vault: Twenty enthalten sein wird?
From the Vault: Annihilation
Release Daten und Inhalt
15 Premium foil Karten, davon sechs mit neuem Artwork
Ein exklusiver Spindown™ Lebenspunktezähler
Collector's Guide
From the Vault: Annihilation wird weltweit auf Englisch in sehr begrenzter Auflage erhältlich sein.
Twitter Hashtag: #MTGANH
UVP: 34,99 $ (hust, hust, …)
Release / MTGO Release: 22.08.2014
Editionssymbol
Artwork
Ein erstes Artwork wurde bereits veröffentlicht: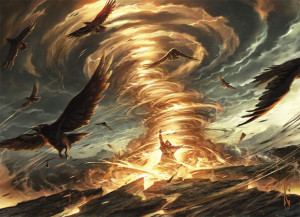 Vergangene From the Vault Sets
Ein Blick zurück auf bisher erschienene Sets der begehrten Sammlerserie…
From the Vault: Twenty
From the Vault: Realms
From the Vault: Legends
From the Vault: Relics
From the Vault: Dragons
From the Vault: Exiled
Das könnte Dich auch interessieren:
>> Quelle:
wizards
>>
FNM Promo Foils 2014
>>
Modern Event Deck
angekündigt >>
Spoiler
>> Deal-Radar in den
Red-Zone-Deals
oder selbst stöbern über die
Shoplinks
5 Comments